You've just purchased the TV of your dreams and life is good, but one thing still remains uncertain: will you mount your new TV on the wall or opt for a traditional TV stand? We realise what a daunting choice this can be, so we thought we'd sum up the pros and cons of each solution to make your decision that little bit easier.
Pros and Cons of Wall-Mounted TVs
Mounting your TV on the wall may seem like an easy choice with the vast majority of new TVs designed to be wall-mounted.
First, let's talk through some of the pros for mounting your TV on the wall:
Space saver – The biggest advantage of mounting your TV on the wall is the space it saves you. With screens being designed to be as thin as possible in today's market, they barely stick out of the wall.
Less chance of being damaged – As the TV is secured on a bracket, the likelihood of it being damaged is greatly reduced, as the TV cannot be accidentally knocked to the floor.
Focal point of the room – Mounting your TV on the wall ensures that it is the focal point of the room. This can give a room a cleaner, less cluttered look, as all wires are conveniently hidden behind the TV and are completely out of sight.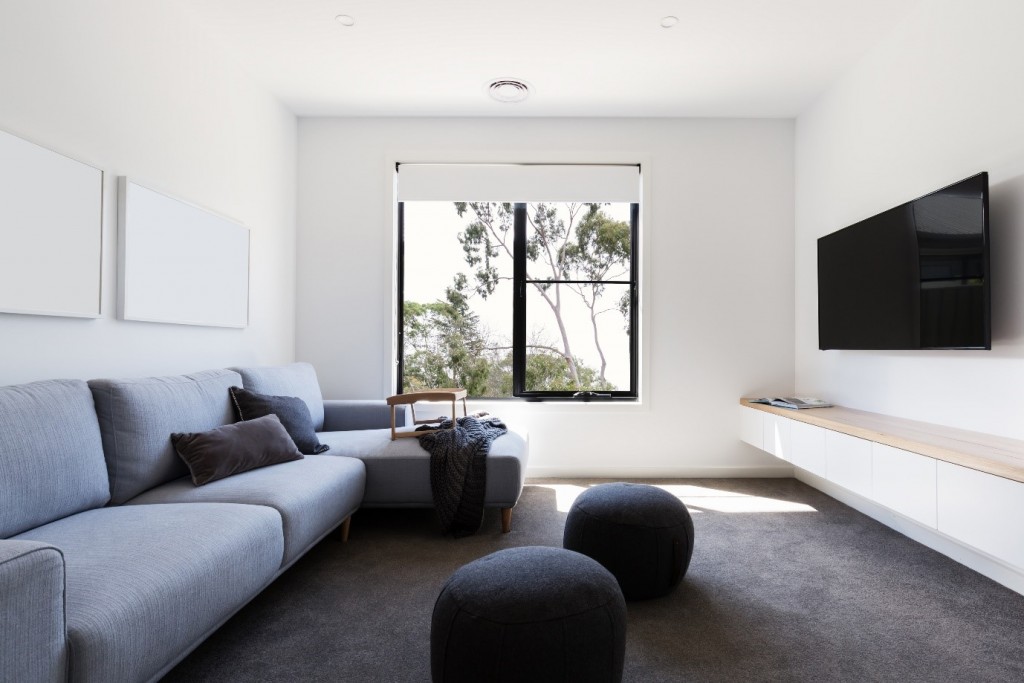 Whilst there are plenty of positives to installing a wall-mounted TV, there are also a few issues you'll need to consider:
Getting the right balance – If you don't fully consider where your TV bracket will be placed before installing it, you could find you have put your TV either too high or low on the wall. This can lead to problems further down the line as you may find yourself adopting an uncomfortable viewing position to compensate for not being able to see the TV properly. It's also worth considering that changing the position of the bracket can be difficult once installed, so be sure to get this right first time around.
Additional devices – If you are partial to video games and the occasional DVD, you might want to steer clear of installing a wall bracket for your TV. The main issue that arises with additional devices is that you are unable to hide the wires that connect them to the TV. It can be very difficult to achieve that uncluttered look, if you have a range of additional devices that need to be hooked up to your TV. It's also worth considering the additional expense for any furniture you might need to purchase to place your devices on.
Expensive – Depending on the type of wall bracket you are looking for, they can vary from relatively cheap to very expensive. In some cases, wall brackets can cost almost as much as your TV. If you are looking for a bracket that is capable of moving freely, swivelling and tilting, be ready to pay a higher price.
Pros and Cons of TV Stands
The humble TV stand has been a staple of living rooms around the UK for many years now, and there is good reason for this, with a whole host of reasons for sticking with a TV stand in your home.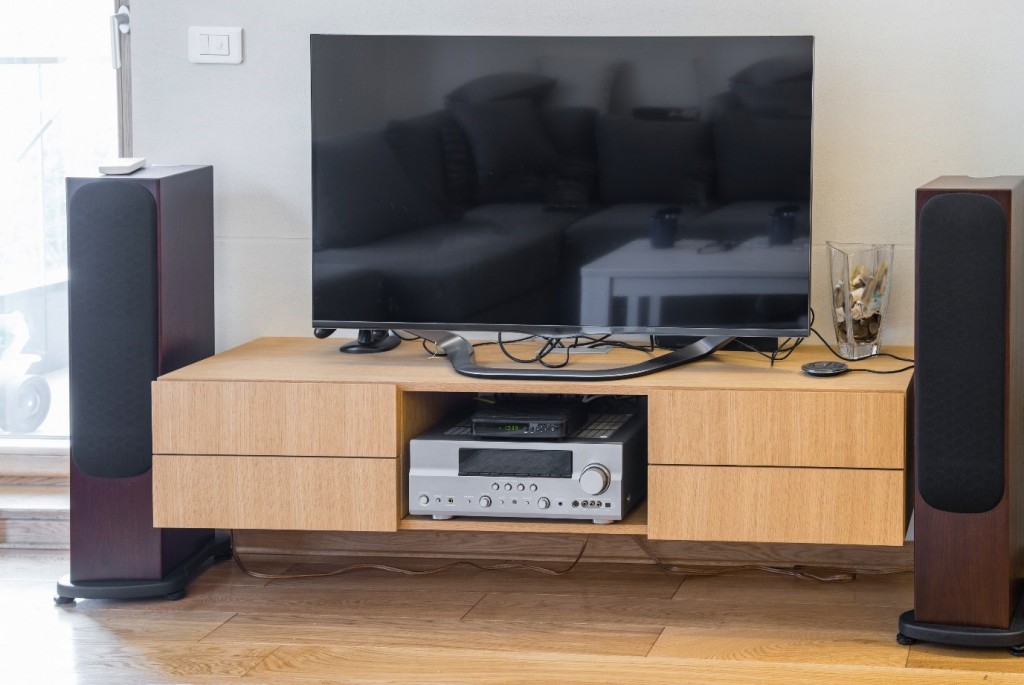 Some of the most important positives TV stands bring to your home are:
Easy to move – If you're partial to changing the look of your room regularly, a TV stand may well be for you, as they are much easier to move than a TV bracket. If your screen needs adjusting ever so slightly to maximise your viewing experience, you can easily do so with the freedom a TV stand brings.
Storage – The vast majority of TV stands come with some form of storage which is ideal for the DVDs, video games and additional devices you may have accumulated over the years. Your home can be clutter-free thanks to the additional storage you will have in your living room.
Easy access to cables – Constantly swapping around the devices connected to your TV? If this is the case, a TV stand could definitely be for you, as it allows easy access to all the cables that are connected to the TV. It's also worth noting that many TV stands are now fitted with compartments that help to hide unsightly cords.
But it's not all good news when it comes to TV stands; here are some of the problems you may run into:
Space invader – TV stands do take up considerably more floor space than a mounted TV, which can be a problem if you have a smaller room.
At risk of damage – Being placed on a stand does open the TV to potential damage, as it is not fixed into one position. The TV is also at risk of being damaged by children or pets, as it is at a lower level than a wall-mounted TV.
Wall-Mounted or TV Stand – Which Should You Choose?
Well, the short answer is that it completely depends on the TV you have purchased, the room you'll be placing it in and your individual preference. Here are a few of our top tips for choosing the right TV solution for you.
Wall-Mounted TV – Choose this if:
You are looking for a clean, clutter-free
You are installing a TV in a smaller room.
You are looking to instil a modern décor in your home.
You don't have an abundance of additional devices to connect to the TV.
You have children or pets that are likely to damage the TV at a lower level.
TV Stand – Choose this if:
You are short on storage in your home.
You change the layout of your room often.
You have several additional devices connected to the TV.
You want a more traditional look for your home.
If you are still looking for the perfect cheap LED tv for your home, check out some of the deals across our website. Our stock comes at heavily discounted prices to ensure you can spend the money you saved on securing the perfect TV stand or bracket for your home